Young People from Indian Ocean Nations Say 'Stop to Poverty'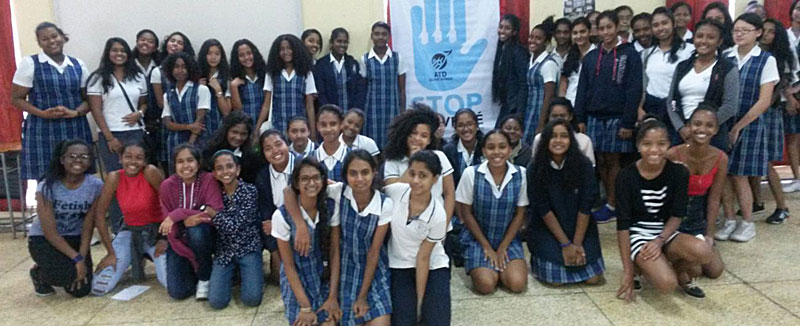 This article is imported from our 2017 Stop Poverty Campaign web site.
Mauritius
On 14th July this year, around forty young women gathered at Collège Lorette in Port-Louis, Mauritius at an event organised by their drama teacher, Marie France Favory. The meeting, in association with the #StopPoverty campaign, stimulated a discussion about social insecurity beginning with the video "Poverty is a form of violence". The young people were very moved by the poignant testimonies of activists from all over the world:
"I think that if everyone made an effort to help those in need, there would be less poverty." Mégane
"If someone is poor, people no longer see the individual. It's shocking that no one is taking care of them, they've got no home, at night when it rains, when there are storms, we don't even think about them." Camille
This exchange was followed by performances including stories, poems and theatre.
The young people chose to sign the call to action of the Stop Poverty Camapign of ATD Fourth World.
Madagascar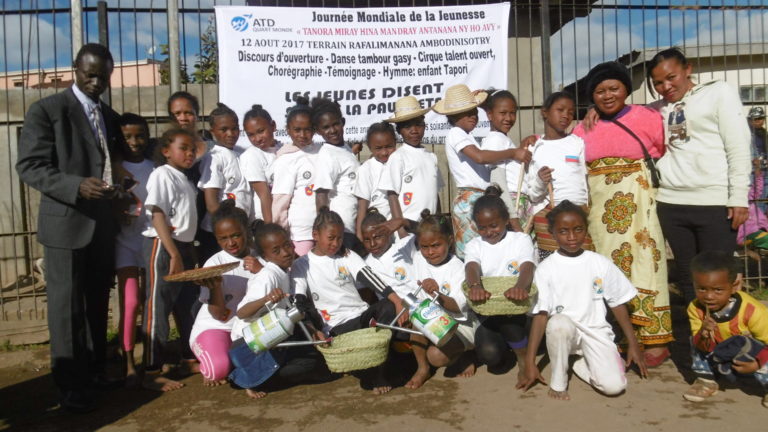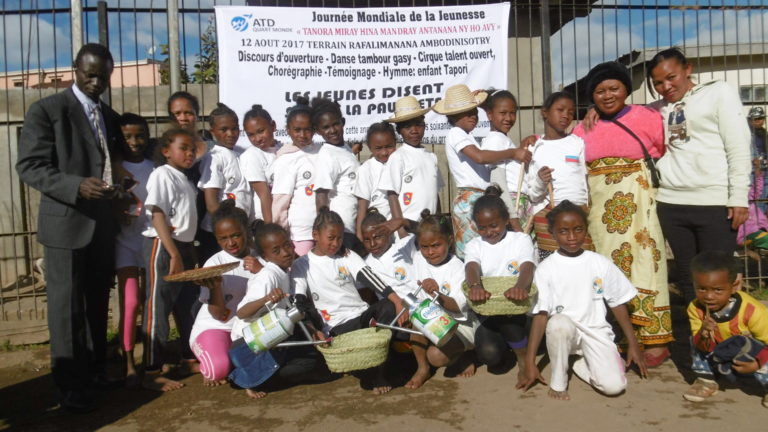 On 16th August this year, more than a hundred young people gathered in Antananarivo, the capital of Madagascar to mark International Youth Day, choosing as a theme, "Young people united to take charge of the future".
The event was organised by the ATD Fourth World Madagascar team and the Tapori group in collaboration with a number of other organisations: Gazella, Manaode, ENDA Madagascar, Sentinelles, the NRJ Centre and TVM (National Malagasy Television). Several local leading figures attended the event.
Among the activities were the opportunity to sign the call to action (a key element of the Stop Poverty campaign), dance, slam poetry, circus activities and a play based on the life of Father Joseph.
The instigators of the event aimed to motivate young people to improve the living conditions of the communities around them, enable them to get to know and learn about people living in poverty, and provide support to take action on their behalf.  Organisers were inspired by the words of Joseph Wresinski:  "Poverty can be overcome when people unite to defeat it."
The young people expressed themselves freely over the course of the day:
"Since I was very young I have participated in different activities with the ATD Fourth World, like street libraries, professional IT training, French lessons and cultural exchanges about art, dance, circus and theatre…Thanks to all this, we know more about our role as citizens and are encouraged to take part in community activities such as the clean-up of the Antohomadinika and Andramiharana neighbourhoods, clearing the canals and side streets.
Everything we do in ATD  is based on mutual aid and knowledge sharing. I could even say I grew up with the ATD, learning among many things, that in order to confront poverty and dictate our own future, we have to work together." Steve
"It's the first time I've organised an event like this, and I am convinced of its success. In the future, it will be a real source of motivation for me as I already know how to organise an event." Jean Marc
"During the holidays, most young people cannot take advantage of their free time as they do not have the means. It's also an occasion for young people to show their talents. It's really a moment of relaxation, a chance to try new things outside of our normal routine." Hanitra
These young people from Indian Ocean nations are joining others all over the world who are saying 'stop' to poverty.