Ireland
ATD Fourth World–Ireland (trading as All Together in Dignity (ATD) Ireland) is based in Dublin, Republic of Ireland.
Objectives
ATD Ireland has the following objectives based on a human rights approach:
Learning from the knowledge and experience of people resisting poverty in their daily lives, and seeking to involve them in the design and implementation of all our actions, and in the community life of ATD– To this end, we visit and support people living in hostels or socially disadvantaged areas. Often, because of the many obstacles they have faced since childhood, the parents we meet may have addictions or mental health issues.  Many have children in foster care.  Little by little, we have built relationships with them based on mutual trust and respect.
Promoting October 17, the World Day for Overcoming Poverty in Ireland, at the same time, working with the National Committee for 17 October to coordinate a commemoration at the Custom House Quay in Dublin. Ensuring the voices of people living in poverty are at the heart of this event. In addition, providing networking and communications support to local community groups observing the Day around the country.
Working with like-minded partner organisations and groups to advocate for the eradication of poverty and for positive social change.
Current actions include:
Promoting awareness of and actions for Agenda 2030 for Sustainable Development, particularly Sustainable Development Goals 1 and 10 in relation to ending poverty in all its forms and reducing inequalities, respectively. This also includes a commitment to honour the Leave No One Behind promise of Agenda 2030 in all our actions, including our community-based Leave No One Behind Conversations series.
Working with people affected by socioeconomic discrimination and with like-minded partners. This is done through participatory project actions and public campaigning. So that socioeconomic status is recognised as a ground in Irish equality legislation.
Working to achieve a universal social protection floor for all. Through benchmarking basic social welfare rates in line with the Minimum Essential Standard of Living.
Promoting the UN Guiding Principles on Extreme Poverty and Human Rights among Irish stakeholders. Based on internationally agreed human rights principles and standards, the Guiding Principles provide suggestions for how to put into practice the obligations of States to respect, protect, and fulfil the rights of people living in extreme poverty.
ATD Fourth World has been present in Ireland since 1999. In 2009, ATD Fourth World–Ireland became a registered Irish charity and a company limited by guarantee without shared capital. ATD Ireland is also a membership-based solidarity organisation. It has 39 members composed of people with lived experience of poverty, allies and supporters.
Latest news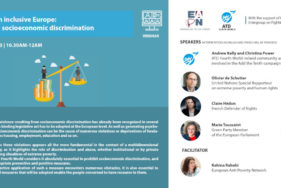 On June 28th, 2023 ATD Fourth World Europe organized a webinar on the theme of socioeconomic discrimination – Building an (…) Read more →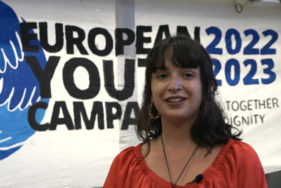 Ciara Margolis was a member of ATD Fourth World in Ireland, having been involved with ATD Fourth World there for (…) Read more →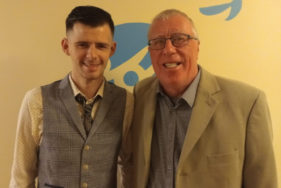 Above: Andrew Kelly (left) with Mark Hogan This text is based on a speech given by Andrew Kelly at the (…) Read more →